Hello!

Today I present you a days work. I'm a perfectionist and I believe that is replicated in the quality of the product I present today. I've been configuring Minecraft servers for 4 years and therefore have ample experience with high quality setups. These configurations took a long time to design and I believe that every customer will be extremely happy with their purchase.
Screenshots
​
KitPvP Configuration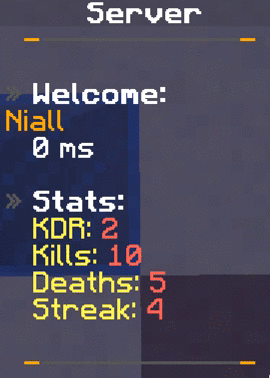 *If you wish to see the rest of the designs, please PM me. I'm hesitant of releasing the rest of the screenshots as some may steal the designs, though I can assure you and prove to you, that all five designs are to the same high standard.


How to Install
​
1. Download the file.
2. Extract it.
3. Drag the desired "config.yml" from one of the five files into the "FeatherBoard" folder in the "plugins" folder replacing the default one.
4. Drag the provided "placeholder_bukkit.yml" into the "placeholders" folder in the "FeatherBoard" folder replacing the default one.
5. Open config.yml and customise the template for stationary variables like "Server", replace that with your actual server name.
6. Restart, reload or /featherboard reload in-game or through the console.
7. Enjoy!
Dependencies
FeatherBoard - https://www.spigotmc.org/resources/featherboard.2691/

Agreement

Agreement: By purchasing this resource, "5x FeatherBoard Configurations | Factions/Prison/KitPVP/Hub Pre-Made FeatherBoard Configs [HQ]", you, the customer, agree to this agreement and all terms stated within it. You will not distribute or resell this resource. You may only utilise this file for one server that you own. If you wish to use it for multiple different servers, you have to purchase it again. You may not use this file for service purposes, this includes, but is not limited to Minecraft server setup teams or businesses, server hosting services and the like. You agree that you will not chargeback your purchase and you understand that all sales are final. If you do not agree with these terms, please do not purchase this resource. These terms are subject to change at the sole discretion of Niall.

My Other Products

If you have any questions regarding the above terms, please contact Niall before purchasing.

Contact
PM on MC-Market.
Skype: ivelocitygaming
Email:

[email protected]


Feel free to contact me with any questions you may have or any suggestions or improvements to be made to the product.

If you have any configurations that you wish for me to create, please PM me and I'd be happy to create it!
​