Server version: 1.8

Build Battle | Build Battle | 3 Solo & 3 Team Arenas |
Build'n'Guess | Guess Mode | Made with Skript | 5 Arenas |
Speed Builders | Speed Mode | 5 Arenas |

Custom join signs made with skript with changing glass behind them

Top stats signs made with skript

Personal stats signs made with DynamicSigns

Coins Vault

Cosmetics with Emotes and Trails (Can be used ingame)

Beautiful Spawn and Waiting Lobby

Book with introduction to the minigames

VIP & VIP+ Ranks

Helper, Mod & Admin staff ranks

Separated chat and tab list for every arena
Plugin Used: Building Games (Older version. Included)
Game Description: Everyone are building on a given theme and then rate the other players' buildings on the same theme. The players with the most points wins.

Plugin Used: Build N Guess (Custom Made Skript by us, you get it for free!)
Game Description: One player is building on a given theme and the other have to guess what he is building. You get points for guessing and getting your word guessed.
Plugin Used: SpeedBuilders (You have to purchase it)

The plugin has a lot of bugs and even I can't run it anymore on my own server. Waiting for fix.


Game Description: Rebuild the shown building as fast as you can or die trying. The last player alive wins.

We have created custom made statistics for the top 9 player with most wins with skript. And there are 12 signs with per player statistics made with DynamicSigns (You have to purchase it)

Messages: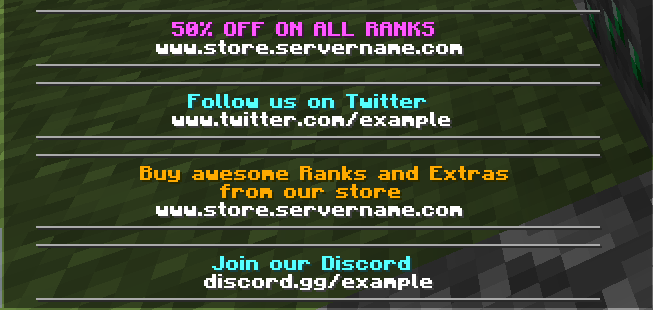 Lobby Scoreboard:
Tablist:
Coins Shop:
Emotes menu:
Emotes Preview: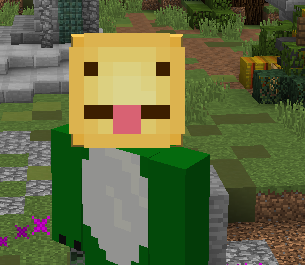 Social media heads decoration and hologram on spawn:
Plugins that you have to purchase:
Plugins that you need to purchase for some extras:
​
MySQL Setup:
To run the server with all features you have to setup few MySQL databases:
plugins/SpeedBuilders/config.yml (for statistics, to connect with DynamicSigns)
plugins/DynamicSigns/placeholders/placeholders_mysql.yml (setup as same as the one above, used to display some SpeedBuilders statistics)
Notes:
If you have any problems or need help, feel free to contact me on PM here.

The arenas and the waiting lobby are downloaded from internet for free!
​