WE HAVE RELEASED PRISON REBORN!
THE SETUP INCLUDES SOME AMAZING CUSTOM PLUGINS AND UNIQUE FEATURES. ALONG WITH A LOT OF BUG FIXES AND OTHER OPTIMIATIONS. IT IS RECOMMEND YOU CHECK THAT SETUP OUT INSTEAD.
LINK HERE






What do we have here?
Hello, everyone! Today I am bringing to you the very best OP Prison setup in the entire market! Not only will you be completely impressed with this setup but it also delivers on lots of custom features that not only keep your players entertained but enjoying themselves!

This is the best!
Yes! You heard me right! This setup is the very best on the market! Not only is the setup packed full of features but it is also specially setup so that this server will run amazingly well whether there are only 5 players on the server or 100 players! These features keep your server fun to play! You can't go wrong with this setup!

What's new?
So you keep hearing about this amazing revamp that makes this setup the best on MCM but what actually is new? Well, a lot! First off I added the
blast enchantment
, this enchantment can be found via the server kits or crates that can be found at spawn. There is now
donor ranks
and
donor mines
which can only be obtained by players purchasing ranks on your website!
These builds are absolutely gorgeous with or without shaders but we took them with because they look even better!

Here comes the fun part! This server is complete with the entire alphabet full of mines and donor mines! Mines will automatically reset every 10 minutes without spamming the chat full of ugly messages. Placed throughout the server are different kits which include, Elite, Ultra, Legend, and Supreme that are unlocked as the player progresses through the mines. But that isn't even close to scratching the surface! Take a look at some of the amazing features below!

Amazing Builds
These builds are
NOT DOWNLOADED
and they can only be purchased through me. These builds are extremely high quality and not only look amazing in your server but they also are completely breathtaking in shaders!
Plot World
There is also a plot world for players that have made it all the way to the FREE Rank. Everything for the plot world is automated and all players must do is type /warp Plots. Players at the free rank can access /shop which allows players to build their own bases and farm!

Block Rewards
Players receive rewards after they reach a certain amount of blocks mined.
- 10,000 Blocks = 1 Backpack
- 25,000 Blocks = 1 Backpack
- 50,000 Blocks = 1 Soulbound Backpack
- 100,000 Blocks = 1 Soulbound Backpack
- 200,000 Blocks = 1 Soulbound Backpack
- 500,000 Blocks = 1 Soulbound Backpack
- 1,000,000 Blocks = 1 Soulbound Backpack
Auto Sell
This server also gives players an auto sell option so they do not have to keep typing a command /autosell. This is not only completely optional but the command is specially designed per rank.

Blast
Mining one block at a time is boring! Why waste your time? If you are lucky enough or rich enough to purchase a blast enchantment on your pickaxe you can mine in a 3x3 dramatically increasing the number of ingots the player brings in.
Auto Convert
Not only does every pickaxe come with autosmelt which saves players a lot of hassle. But the server also has a feature known as auto convert! Once a player has reached 9 ingots in their inventory it is automatically converted into blocks! This reduces the amount of times a player receives a full inventory.

Block Count
On every pickaxe, a player wields a number will be displayed with the total amount of blocks broken in the server. This number is bound to the player and continues if the player upgrades their pickaxe or switches to a new pickaxe.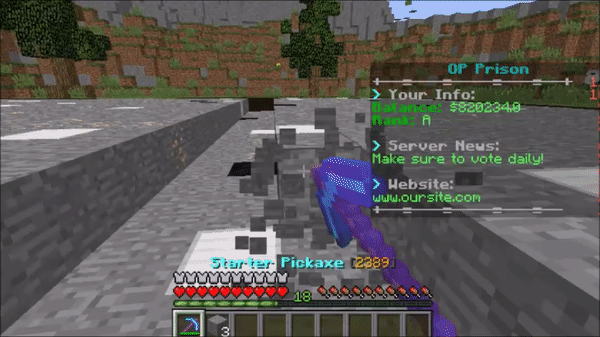 Token Enchants
Yes of course! Every great prison server has them. Token enchant is fully configured with some amazing messages to not only give your players a laugh but also help them to level up. These signs can be found at spawn and players can be given credits to purchase higher level enchantments.

Warp GUI
Enjoy a sleek and clean warp GUI!
Baltop Holograms
No more boring essentials configs. Enjoy both a custom baltop configuration and a hologram at spawn.

There is a total of three crates at spawn that can be redeemed for different items to help players throughout their journey on the server. The first crate vote is made to reward players for voting. The other two crates, premium and supreme are paid crates that can be rewarded via a system like Buycraft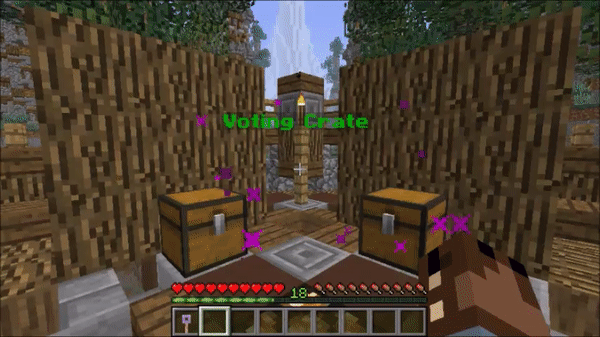 There are two different types of backpacks
soulbound and basic
. Basic backpacks are simply that, backpacks that can be traded and sold. Soulbound backpacks stay with the user upon death. However, they can still be sold or traded.


Dependency
I tried to keep this minimal for all on a tight budget. However, you will need to get Token Enchants if you want the signs at spawn to work. But this could also be done through essentials so if getting the plugin is an issue PM me. You will also need ShopGUIPlus for the shop.

Contact
Have questions or in need of support? Contact me at our
Discord Server
or PM Me!​