⌁⌁⌁⌁⌁⌁⌁⌁⌁⌁⌁⌁⌁⌁⌁⌁⌁⌁⌁⌁
⌁⌁⌁⌁⌁ Essentials Messages ⌁⌁⌁⌁⌁
⌁⌁⌁⌁⌁⌁⌁⌁⌁⌁⌁⌁⌁⌁⌁⌁⌁⌁⌁⌁
Ever wanted to give your server a unique feel?
Now you can!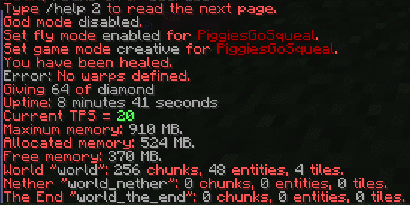 Setup Instructions:
​
1.) When you download the file you will receive a zipped folder. Unzip the folder and you'll see this:
The format is MainColor_and_2ndColor
For example, the default setup would be &6_and_&c
2.) Decide which one you want and double click it to enter the folder. It'll show this:
3.) Choose the language you want.
English = messages_en
German = messages_de
Spanish = messages_es
4.) Upload the messages_en file or whichever you chose into the Essentials folder. Like so:
5.) Restart your server. Do
NOT
reload it.
6.) Once your server is up then login and try typing Essentials commands. If you're opped or have all permissions then try the following: /god, /fly, /gmc, /heal, /warps, /i diamond, and /lag.
7.) That's it! If you decide you want different colors then simply delete the messages_en file (or whichever language you're using) then upload a new one from the list of options.
Frequently Asked Questions
​
Q.) Why is my message of the day (MOTD) not the colors set?
A.) The MOTD is actually set in a separate file. To change that all you have to do is open your essentials folder, open the "motd" file, then edit the color codes to the colors you want.
Q.) Does this work for 1.7 - 1.16+
A.) Yup!
Q.) How can I make my own EssentialsX/Essentials language file?
A.) You may view a tutorial here.

Q.) When an Essentials message shows a player name it also shows the prefix before it (

example:

here). How can I make it only show the player name?
A.) This actually isn't related to this resource, but it is caused by the EssentialsXChat add-on. In order to fix it go to the EssentialsX config file and find

Code:
#add-prefix-suffix: false
Then remove the # from the beginning of the line. Save file and restart server.