Hello, MC-Market Users.
Today I'm selling my HUB Setup for Bungeecords Servers

Before buying..
This plugin needs
• Featherboard
• EzQueue
•Litebans
For It to work, this isnt a plugin, its a configuration you are not allowed to put premium plugins in a setup with the permission of the original developer
Also this HUB Setup is recommended to be used for HCF related or factions related servers, cause of the features it comes with.
Is it Worth it?
Indeed it is, Have you ever wanted to have a good looking Hub but don't have the budget to buy Custom Plugins for the server?
No need to wait anymore to have a big budget this setup is very simple but very interesting, with the amount of features it comes with, There will be more updates and features that will be added in the setup, such as Player Profiles, Hub Crates etc, If you wish that there is more features than what it currently has dont hesitate on contacting me thru MCM or Skype which can be found in the setup files.
This setup comes with the following Features..
​
Queue (Bungeecord & Hub)

​

Permissions (Ranks prefixes)

​

Lifetime Support (Anything)

​
Some screenshots.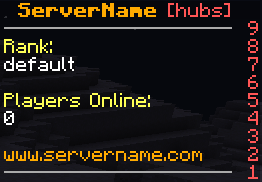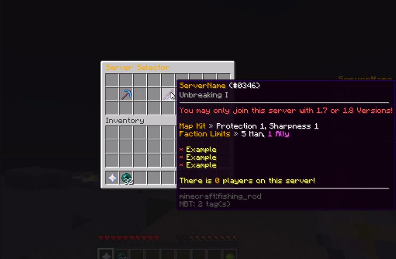 Upcoming update...
EchoPets, EasterEggs.
Hats, Emotes etc.
TOS
1. You may not re-sell my work without my permission.
2. You are free to edit whatever you want in this setup.
3. Don't claim that you made this setup.
4. I can add your server logo to this resource if you are using this setup.
5. Don't abuse the life time support
​