​
Introducing ItemSkins - the ultimate plugin that brings life to your server with unique and customizable cosmetics! Our plugin is EULA-friendly, which means you won't have to worry about any legal issues.

ItemSkins is a revolutionary plugin that uses custom model data to provide a seamless and user-friendly experience for your players. Our plugin works by manipulating the custom model data of items, which means that when a player changes the skin of an item, we can alter the custom model data to reflect that change. This means that players can enjoy a wide variety of skins without having to worry about losing any information such as nbt tags.

Our plugin is designed with ease of use in mind, making it simple for server owners to add and manage skins for their items. This feature also ensures that players can quickly and easily change the skins of their items, providing a customizable and unique gameplay experience.

IMPORTANT:
THIS PLUGIN REQUIRES KNOWLEDGE OF THE RESOURCE PACK (ESPECIALLY CUSTOM MODEL DATA) TO SHOW DIFFERENT MODELS OF THE ITEM, DO NOT BUY IF YOU DON'T KNOW HOW TO INSTALL A MODEL ON THE RESOURCE PACK, OR AT LEAST HIRE A RESOURCE PACK EXPERT.

We also provide the sample resource pack for you guys to use, we included the resource pack on the download file. All resource pack assets are created by our amazing designer TwistedDreams, thanks to him.

​
We are still trying to expand the features and potential of ItemSkins, we will always hear your ideas, join our community on Discord, and see the link in the support section. Here are the features that ItemSkins offer:

Unlimited Skins - You can add as many skins as you want to any materials you want with a simple configuration paired with unlimited GUI pagination.

Physical Skin - You don't like the skin selector GUI? Don't worry, with ItemSkins you can have a drag & drop feature, simply just drag the physical skin and drop it into an item.

Colorable Skin - ItemSkins have the ability to dynamically change leather-based skin, meaning players can choose the color of the item with any colors (preview is not available yet)

Preview Skin - Each skin can be viewed as a floating item so players can see how the skin will look physically before actually applying it to their item.

There are many more features inside ItemSkins, explore the amazing potential by purchasing this plugin.
You can view our configuration files here!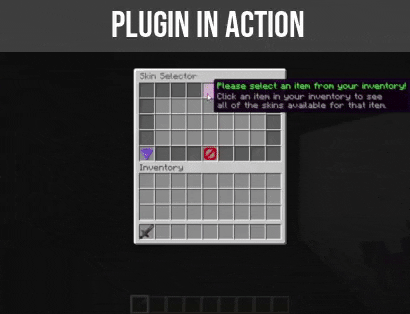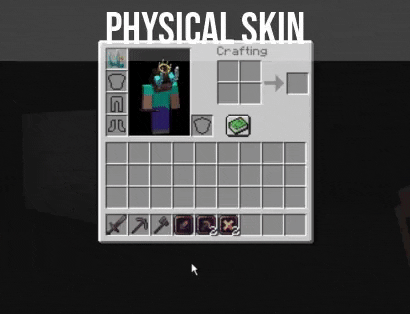 ​
/itemskins - shows help messages

/itemskins reload - reload the configuration (itemskins.admin)

/itemskins physical (player) (material) (skin) [amount] - gives physical skin to specific player (itemskins.admin)

/itemskins remover (player) [amount] - gives skin remover to specific player (itemskins.admin)

/skins - open the skin selector inventory
​
ItemSkins provides permissions so as a server owner you can tailor the gameplay experience for different players. The available permissions are:
itemskins.admin - Access to various admin commands.

​
​
If you need support or report issues and suggestions related to ItemSkins plugin, please join our Discord Server. If you've purchased this plugin and have a discord account linked you will automatically get verified. Our support team will assist you as quickly as possible, due to the different timezone please kindly wait to get a response.