Litebans custom messages! Soon more plugins like AdvancedBans and MaxBans messages are going to be added!
Once you bought this config, download it, open it with
NotePad++
, hover "SERVERNAME" and type Your server name instead ☺ Hope this helped some people
Make sure to leave a
✯✯✯✯✯
rating!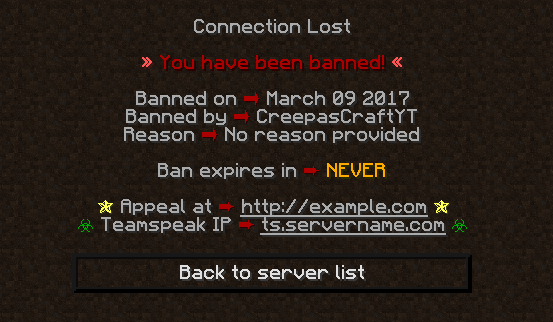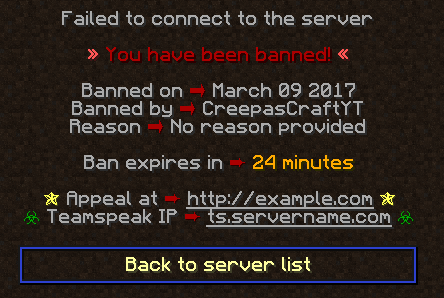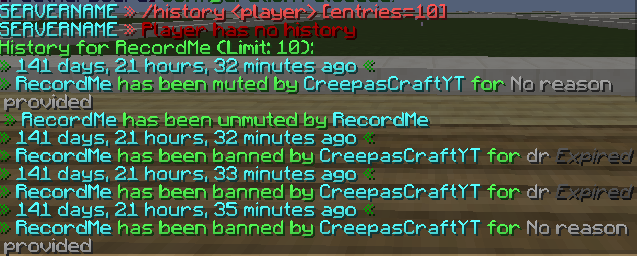 And more!
If you need help make sure to contact Me on MCM !! I can modify the messages.yml to your liking if you need!
Plugin
»
https://www.spigotmc.org/resources/litebans.3715/
How to install:
1. Install
LiteBans
2. Put the plugin in the Plugins folder
3. Reload/Restart/turn on your server
4. Remove the OLD messages.yml and replace it with this one
5. Modify It to your liking
5b. If you have
Notepad++
do Ctrl + F, click Replace, type SERVERNAME in the first box, type your server's name in the second box, click ReplaceAll then hit Ctrl + S
6. Do /litebans reload or Reload/Restart your server
(If you have
plugman
do /plugman reload Litebans)
Servers using these messages:
Suggest me some servers!
TO-DO:
✔
- Done
✘
- Haven't Started
✈
- Working on it
If you want me to add something PM me on MCM!
TOS:
Do not resell this config.
No Refunds.
You can modify the messages.yml as your liking.