【

Mall

】
Player manageable shops! Allow players to Auction their shops!
Features:
​
Claimable shops. (Walk-In claiming)
Players can Auction their shops for cash.
Limit amount of shops a player can have.
Easy to create shops. (Name them anything!)
Choose between using a physical economy or virtual.
Player manageable shops.
Independent! (Requires no other plugins! (You can use vault if wanting to set prices for shops!)).
Ability for players to add other player access.
Customize any message!
MySQL coming soon!
This plugin depends on an economy plugin and [Vault].
Permissions:
​
Code:
- /mall create (mall.create)
- /mall remove (mall.remove)
- /mall claim (mall.claim)
- /mall setprice (mall.setprice)
- /mall wand (mall.wand)
- /mall setsign (mall.setsign)
- /mall settype (mall.set.type)
- /mall setphysical (mall.set.physical)
- /mall setvirtual (mall.set.virtual)
- /mall list (mall.list)
- /mall leave (mall.leave)
- /mall add (mall.add)
- /mall kick (mall.kick)
- /mall auction (mall.auction)
- Setting shop bounds (mall.setbounds)
- Donor Access (Allowed 2 shops) (mall.access.donor)
Auctions:
Allow players to auction their own shops!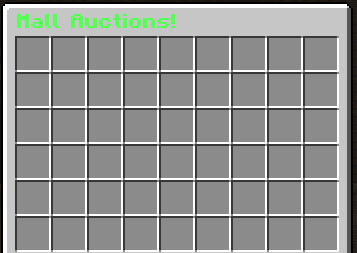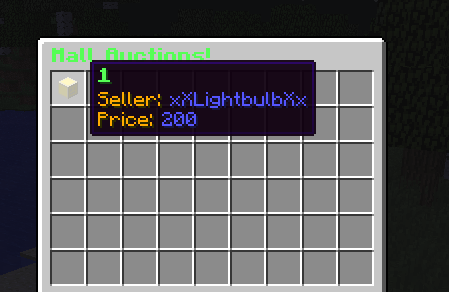 Images:
(Commands)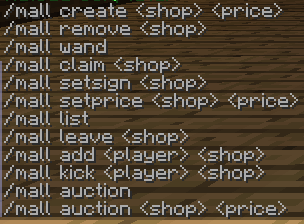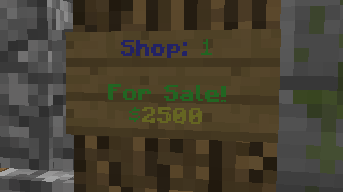 Configuration:
​
Code:
[/SIZE][/COLOR][/FONT][/SIZE][/COLOR][/FONT][/SIZE][/COLOR][/FONT][/SIZE][/COLOR][/FONT]
[FONT=Droid Sans][COLOR=rgb(44, 44, 44)][SIZE=4][FONT=Verdana][COLOR=rgb(20, 20, 20)][SIZE=4][FONT=Droid Sans][COLOR=rgb(44, 44, 44)][SIZE=4][FONT=Verdana][COLOR=rgb(20, 20, 20)][SIZE=4]help-text:
- '&7/mall create <shop> <price>'
- '&7/mall remove <shop>'
- '&7/mall wand'
- '&7/mall claim <shop>'
- '&7/mall setsign <shop>'
- '&7/mall setprice <shop> <price>'
- '&7/mall list'
- '&7/mall leave <shop>'
- '&7/mall add <player> <shop>'
- '&7/mall kick <player> <shop>'
- '&7/mall auction'
- '&7/mall auction <shop> <price>'
no-permission: '&cYou do not have permission for this!'
shop-list: '&6{number} &a{shop}'
shop-specify: '&cPlease specify a shop'
wand-given: '&aYou have been given a wand'
click-sign-to-set-sign: '&aRight-Click a sign to finalize the sign setup.'
shop-no-exist: '&cThe specified shop does not exist!'
shop-exists-already: '&cThe specified shop already exists!'
removed-from-shop: '&aYou were successfully removed from the shop!'
no-access-to-shop: '&cYou do not have access to this shop!'
shop-deleted: '&aYour shop was successfully deleted!'
set-boundaries: '&cYou must set the boundaries with &6/mall wand&c!'
created-shop: '&aSuccessfully created shop'
set-price: '&aYou set the price of the shop to: {price}'
player-not-online: '&cThe specified player is not online!'
player-not-shop-owner: '&cYou are not the shop owner!'
added-player-to-shop: '&aSuccessfully added shop access to player: {player}'
cannot-add-self: '&cYou cannot add your self to your own shop!'
cannot-kick-self: '&cYou cannot kick your self from your shop! Use &6/mall leave &cto
  leave your shop!'
target-kicked: '&cYou were kicked from the shop: {shop}'
player-kicked: '&aYou successfully kicked: {player} from your shop!'
player-leave-shop: '&aYou successfully left shop: {shop}'
shop-bought-already: '&cThis shop was already bought!'
inventory-title: '&a&lMall Auctions!'