McMMOStatsGui is a simple but effective plugin that turns your mcmmo /mcstats command into a GUI!
Also works with /stats

Features:
- A nice looking GUI to show your mcmmo levels.
- Change both names and lores of items in the GUI in the config.
- Change GUI Title
- In-game config reload with /mcstats reload for easy customization
- Supports Java 6, 7 and 8.

Pictures: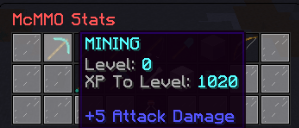 Permissions:
There's none, it's all ready to go by default!

Commands:
/stats
/mcstats

Plugin Metrics:
McMMOStatsGui uses Plugin Metrics to keep track of how many servers are using the plugin, and how many players are on those servers in total.
For more information go to:

https://bukkit.org/threads/mcstats-plugin-metrics-r7-easy-advanced-plugin-statistics.77352/

Leave a review?
I'd love if you'd leave a review, and tell me how I could improve the plugin.
If you just have suggestions or need help, please leave your suggestions in the discussion section of this plugin. here:

http://www.spigotmc.org/threads/mcmmostatsgui-paid.68488/
Always explain why you like/dislike the plugin!

Need help or got a question/suggestion?
I'll be there to assist you, and answer all your questions, just leave a reply here: (link)

Config:
-

http://pastebin.com/d59faq8H
Should be simple enough. If not, ask for help in the discussions section.

Agreement:
- You are in no way allowed to redistribute this plugin.
- You are only allowed to use this on one server, if you have a network/hub server, you may use the plugin on every server within the network.
- You are not allowed to modify the code of the plugin in any way, if there is something you want changed, contact me in the discussion section of the resource.
- You can only receive a refund, if the plugin does not work for you, and I am unable to fix it.