Spawner shards is similar to my other resource crystals, but in this skript it is based on mobs, and mobs will have a chance to drop a spawner shard, and then 32x spawner shards can be traded in for a spawner key or a mystery mob spawner, or whatever you want. Its all done through console.
I will be adding some new updates soon too keep it fresh.
If anyone wants this skript with a different color scheme please pm me.
Spawner Shard GUI: (/shard)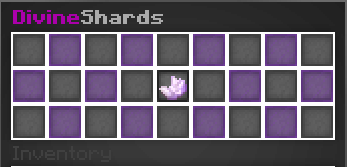 Spawner Shard Trade:

Come test out this resource on play.divineskyblock.us
» TOS «

»
Can't charge back -
»
Can't resell my work -
»
Do not Trade/redistribute my skript -
» Requirements «

SkQuery
SkRayFall
SharpSK
Skript
WildSkript
Skellet