You may check out all my servers at the address below:
hub.premieresetups.com
The test server also includes a /cheat menu so you can see all the different ranks and such without spending hours grinding. This isn't in the real setup.
LOOKING FOR SOMETHING 1.19 NATIVE? CHECK OUT THE NEW MYTHIC PRISON SETUP
This server comes with tons of documentation and support! This includes tons of video tutorials and written information for installation and customization. This also includes 24/7 support in our Discord!
This isn't just a quick little setup, this is a well-organized custom coded project that is made for large and small servers.
This is the next generation of Prison setups. Completely rewriting the books about how prison servers should be. This setup includes some amazing features that make it stand out from any other server on the market, period.
There are
FOUR completely custom plugins
included in this setup.
BombsPlus
Allows players to drop the bomb into a mine and have it quickly clear the mine.
DrugsPlus
Players may purchase drugs via the shop and grow them in the Plotworld which then be sold or used for different effects.
ResourcefulTrees
After fixing up a lot of the bugs with the public version, I then talked to the developer to gain full access to this resource and I now am the sole owner of this amazing custom plugin.
ChatReborn
A completely custom chat format plugin with a lot of amazing effects, completely unique to the reborn series for outstanding chat performance.
(Custom Coded) Drugs Plugin
(Custom Coded) Bomb Plugin
(Custom Coded) ResourcefulTrees
(Custom Coded) ChatReborn
Explosive Pickaxes
Blocks Rewards
14 Amazing Kits
Pickaxe Levels
Backpacks
PvP Arena
26 Normal Player Mines (Locked and Unlocked with GUI)
5 Prestiges (More coming very soon!)
5 Donor Mines
5 Crates - Including Donor
Out of the box ranks, (includes staff and donor ranks)
Gems
Bounties
Plotworld
Auctions
Staffmode
Optimized Shop
These builds were exclusively built.
No ugly PMC builds like some other setups you will find.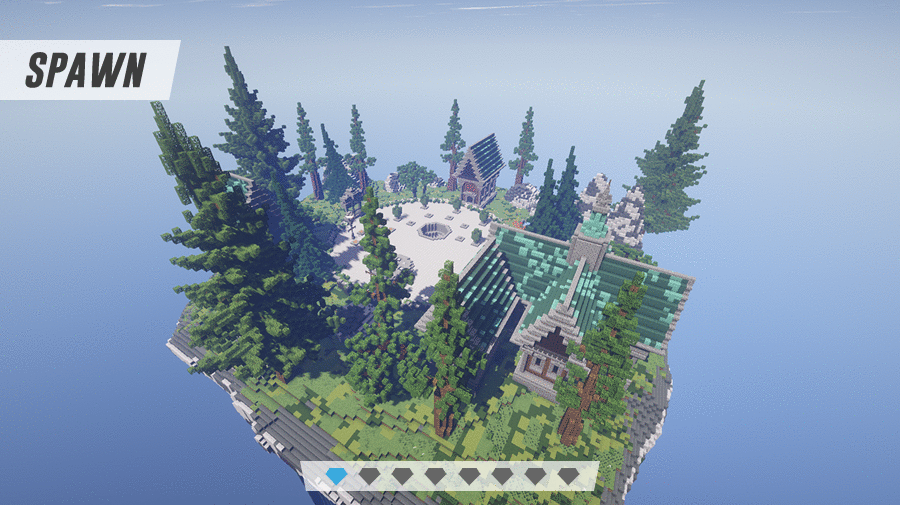 Mines:
Elemental Trees: This is one of the main features of the setup. The goal of this is to allow players to plant trees that actually generate resources for them. You may plant a tree by dropping a sapling and the tree grows. You may view our trees in-game with /trees
Drugs is a custom plugin that gives your plays another exciting thing to do. Players are able to purchase seeds and grow them in the plotworld.
/Drugs
Allows you to view the servers drugs there are 5 current drugs in this setup, Marijuana, LSD, Meth, Cocaine, Steroids.
If you feel that drugs are a bit inappropriate for your server feel free to contact me and I will rename them and make it kid-friendly.
Warp Menu: Fully displays all available warps and updates depending if you have permission for the warp.
Kit Menu: Splits the kits into 2 categories, player unlocked kits and purchasable kits.
Player Kits: Shows all player kit's and where you can unlock them.
Donor Kits: Displays the kits that are purchasable via Buycraft.
Instructions for adding these kits to your Buycraft are included in the README.txt
This plugin is 100% CUSTOM CODED BY FroggyKnight. There are 5 different bombs included with this setup.

Player Bombs:
There are 3 Player Bombs,
Small: 5x5
Medium: 9x9
Large: 12x12
Donor Bombs:
Donor bombs are able to give you fortune while exploding.
Basic Donor Bomb: 9x9 Gives DOUBLE the resources
Advanced Donor Bomb: 9x9 Gives TRIPLE the resources
There are 5 crates included with this setup. 3 player crates, 1 donor crate, and 1 bonus tree crate.
Vote Crate:
Rare Crate:
Epic Crate:
Tree Crate:
Donor Crate:
This setup comes with
5 donor ranks
(Elder, Knight, Lord, King, and Emperor) and 4 staff ranks. The 5 donor ranks include their own mines and various perks which are granted to your players after purchase. Commands for Buycraft are also included in the link below.
Perks for each rank can be found at https://docs.premieresetups.com/prison-reborn/donor-ranks
The setup includes some amazing custom coded enchantment plugin, this plugin allows players to purchase unique enchantments to their tools and armor using
/enchant
!
Not only is there a shop included with
/shop
but players can also create their own shop with
/chestshop
This will help balance the economy while also giving players another thing to do on the server.
Mining Block Rewards
Each reward comes with a message to announce to players they have unlocked a reward. There are multiple types of rewards. You can change rewards in the EZBlocks folder.
Onetime Rewards
100 Blocks - 25K
1,000 Blocks - 40K
10,000 Blocks - 75K
Interval Rewards
Every 200 Blocks - 3 Tokens
Every 500 Blocks - 10 Tokens
Pickaxe Rewards
10,000 Blocks - 100 Tokens
50,000 Blocks - 500 Tokens
5 Prestiges
After reaching the top rank players may prestige with
/prestige
this will return the player to A rank. The player will then start again from A rank but there will be a few differences, rankup prices will now be multiplied by 1.2x and the kits he has previously unlocked are now locked (not donor kits). Players will also have a tag before their name to show they have prestiged.
Bounties
Players may also place and collect bounties on other players with
/bounties.
This feature incorporates a bit of PvP that a lot of players enjoy.
Clear Lagg
Because of our plugin Elemental Trees, a lot of items may be left on the ground. This plugin will remove all of those pesky ground items every 5 minutes to ensure that your server stays lag free.
Chat Reaction
Players are able to earn additional tokens by competing in a chat reaction competition every 5 minutes. The person who unscrambles the word and types it the fastest is awarded some tokens they can use for enchanting.
I offer extensive support for free. If you are in need of any help please feel free to contact us at the support link below. Along with any support you need you may also become a VIP which gives you 20% any other of my setups.
discord.premieresetups.com
​