Type

Admin tools
Supported software

Bukkit
Spigot
Paper
Bungee
Other
Supported versions

1.7
1.8
1.9
1.10
1.11
1.12
1.13
1.14
1.15
1.16
1.17
1.18
1.19
Tags

Tags

None
This page is for people who appreciate my work and wish to donate to keep the plugin active. You can get your free trial on the free page or github releases.
Advantages over downloading it for free
​
When buying the plugin, you will get unlimited access to everything that is provided.
Free users are limited and service provided to them can change at any time.
Current advantages over free download are:
Access to high-priority support on discord (free users will not receive any).
Access to updates as soon as possible (free users may receive an update with a delay).
Assistance with bug reports to find exact steps to reproduce (free users are required to find working steps by themselves, otherwise they will receive "Unable to reproduce" tag and be ignored until they provide working steps).
Although feature requests are officially closed currently, small improvements will still be accepted (free users cannot request any features)

%rel_factionsuuid_relation_color%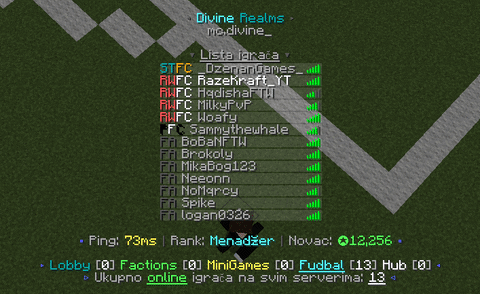 What players see vs what staff see
Issues you may experience and are not caused by the plugin
​
Citizens NPCs will appear in tablist for a short period of time each time you get near them. This is not caused by TAB and cannot be avoided (https://wiki.citizensnpcs.co/Frequently_Asked_Questions#Why_are_NPCs_showing_up_in_the_tablist.3F)


[1.5.x - 1.12.x] You may see unwanted space at the end of a line of text even if you didn't configure any. This is a client sided bug. To avoid it, add &r after ending bold segment (for example prefix &4&lAdmin&r &6).


[1.14.x] Sneaking nametag effect on armor stands does not display correctly. If the feature using armorstands is enabled, plugin will despawn them completely now.


[1.15.x] Using &m (strikethrough) and &n (underline) does not work in header and last line of scoreboard.
Read this before purchasing​
Random refunds without contacting me first are considered scamming and will result in a ban on mc-market. If you have a serious reason for requesting money back (you got charged twice for example), contact me and we will resolve it.
Read description of new features on the wiki, so you are aware of what they offer and what they don't. You can try the plugin for free first, so you know what it does and what it doesn't do.
You are not paying for updates or potential new features. You are paying for download access to the plugin in it's current state, not for features you think or believe will be added. Decision making in development is up to me and I decide what is added and what isn't.
You are responsible for your account and access to it and therefore the plugin. I will not be manually sending the jar on each update to everyone who doesn't have access to their account as a result of their actions. In case of login data loss you must solve it yourself. In case of a ban, bypassing the ban by transferring all of your resources to new account defeats the purpose of a justified ban. Creating another account is against the rules anyway.