Hey there,
I am selling rights to an
exclusive
custom gamemode.
What does the buyer get?
- Rights to the gamemode.
- Premade setup implementing the gamemode.
If you buy this, you will be receiving an amazing gamemode idea as well as a setup ready to go, so you won't need to spend money on Developers or Setup Specialist.
What is the gamemode?
The gamemode is called Island Survival (Islands for short).
It is a mix of the very popular Skyblock gamemode and Survival Island. Essentially, every player gets their own 140x140 area. In this area is mostly ocean, with a small island that they spawn on. The 140x140 area is default Vanilla terrain, so it has the
true
survival feel to it. Players can build, mine, etc. Anything that is possible in Vanilla is possible in Islands.
Core Setup Aspects:
Every player gets their own 140x140 "world" to build and mine in. This gamemode will bring back the original survival aspect of Minecraft.


A stronghold is hidden somewhere within, so it brings back the original adventure aspect of Minecraft as well.


There are realistic player vitals. You can become dehydrated and sleep deprived. Drink a water bottle to rehydrate, and sleep to regain your energy.


Trees automatically fall down after the base block is broken. This is simply a way to bring real physics into the game, as well as to keep players hooked, as no one likes mining trees for hours.


Players can invite their friends to their island, so it fully supports co-op play.


When players unlock achievements, their island boundary expands. When they first start, they are limited to 35x35 out of the 140x140. Players can complete achievements to fully unlock the whole 140x140.


Rather then a Server Shop, players are the center of the economy. Each player can create a player shop, and add items into their shop. It's all done with GUIs, so it's very aesthetically pleasing and easy to navigate. Plugin not included.


The Action Bar displays how long they player has been stranded on the island for, and how long it's been since they last died.


A hidden zombie dungeon under the island.


A official server shop (accessed with /shop).


A sea market to sell caught fish (accessed with /shop).


A tutorial on the basics (accessed with /tutorial).
Are you interested in seeing the gamemode in action?
Contact me via Discord.
The spawn island.
WorldBorder around the unlocked island. (35x35 default, up to 140x140).
The message when you complete an achievement. Each achievement increases your unlocked island size by 5 blocks.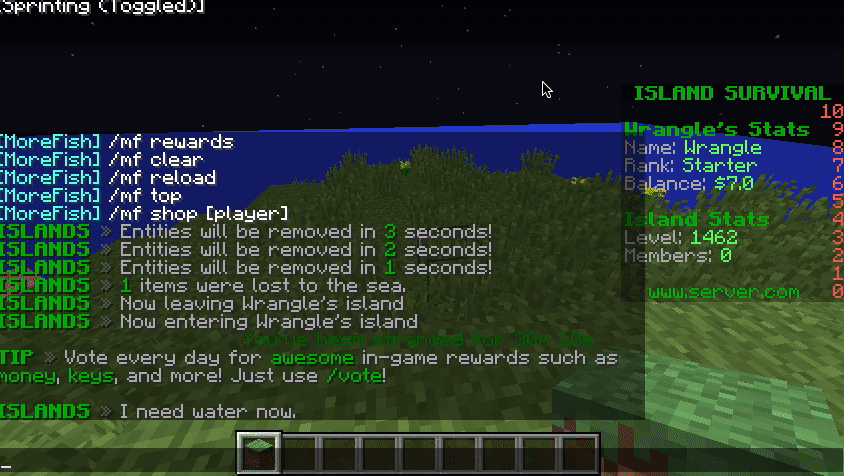 The GUI for /shop. Contains player shop, server shop, and Sea Market.
Starting Bid:
$50
BI: $10
Current Bid:
$190 -
Haary
BIN:
$200
Don't trash regarding the price of this. For
(potentially)
$200, you are getting rights to a new gamemode, and a setup that is ready-to-go. If you monetize this gamemode right, it could turn out to be a
very
profitable gamemode.​
Last edited: